Overview
The Tokyo Sankei Building is quite known as an outstanding large-scale office building situated in the Tokyo business hub of Otemachi.
It is a functional building complex with a hall and conference facility as well as shops and restaurants that meet the various needs of business companies.
Cutting-edge systems have been adopted in the building design and construction in terms of quake resistance, disaster prevention, maintenance, and environment safety. We offer a safe and comfortable office environment.
During the Great East Japan Earthquake in March 2011, a strong intensity 5 on the Japanese scale earthquake hit Tokyo and this demonstrated evidence of Tokyo Sankei Building as a safe and secure busilding.
Ride along five subway lines with direct connection to the stations. "Easy access" to cities around the world
The Otemachi and Marunouchi areas as leading business districts in Japan and in the world take pride in more than a century of history.
The Tokyo Sankei Building can be directly accessed from Otemachi station through five subway lines. It boasts of a great location in the heart of Otemachi with stress-free transport access as soon as you walk out of the ticket gate.

Click Google Maps icon to view
The seismic design of Tokyo Sankei Building performs 1.5 times better than new earthquake-resistant standards. This quake-resistant function allows prolonged use without damage to structure against strong earthquakes of about intensity 5 on the Japanese scale which occur once in a while.
It possesses powerful yield strength suited for a building that is used as a disaster prevention base. +Learn more
To ensure a stable supply of energy at the Tokyo Sankei Building, we adapted a highly reliable and secure 66kV loop distribution system. In the event that service of one of the power supply systems from the two routes is down, it is possible to receive power from the other power supply system that is still functioning. +Learn more
The glass curtain wall that serves as the exterior wall utilizes Low-e glass. Entire glass windows from the floor reaching to the ceiling help achieve ample natural lighting and nice scenery. With the air barrier air conditioning system keeping to a minimum the heat coming from outside, it has made window space comfortable and made overall comfort and energy conservation possible. +Learn more
With regard to building safety, convenience and management function, we set up a central disaster prevention center in the first level basement combining supervisory control functions for disaster prevention and security. The building and office workers are securely supported by our system that is manned 24 hours. +Learn more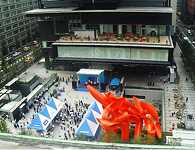 The Metro Square, connecting to the subway concourse, is an open space and retail facility combined to form a public space. It offers office workers a place for relaxation and comfort with sponsored seasonal events and an array of different shops and restaurants. +Learn more